Something that both Hakim and I are excited for more of is how travel will change and broaden our and our kids' perspective.

As Rick Steves says, "Good travel is thoughtful travel."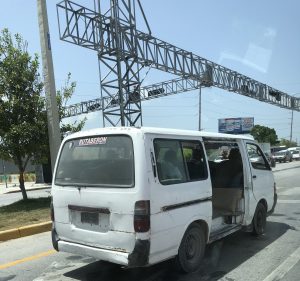 I got quite thoughtful as we touched down in Punta Cana and experienced the roofless airport. Our jarring and very fast shuttle ride to our hotel, passing motorcyclists without helmets and in the gutter of the highway brought much appreciation to me as I watched the girls look around and hold on for dear life with saucer sized eyes. The eyes widened as we passed small vans with no doors as if it was the most natural thing ever. And here it is, but in Canada it is not.
Which brings us back to how travel can increase our perspective of others and what they're about.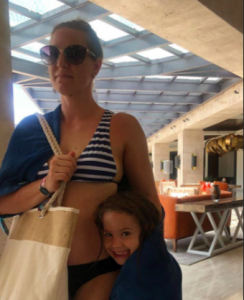 As we were jetting towards our all inclusive, grandiose–and quite expensive resort, I knew that we would be having two kinds of experiences here. The resort Punta Cana and then the rest of Punta Cana. While we are explorers at heart and were anxious to see Punta Cana as much as a local as possible, we were going all in to suck all we could out of the pampered Punta Cana! After all, this was a gift, a reward to us from Herbalife as a thank you to the work done in the last year to impact peoples' health and lives.
Day 1: Explore our room
As there were so many people from North America who qualified for this vacation, Herbalife had to rent out another 200 or so rooms in another resort. This is the resort we got assigned to and I'm super happy we did.
Upon checking in, there seemed to be a glitch with our third child, but barely 30 minutes later, Herbalife had remedied it.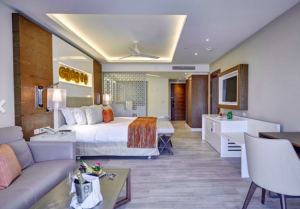 So we went from an expected double queen with pullout sofa-bed room to three-adjoined rooms with one king bed, two queen beds, two pullout sofa beds,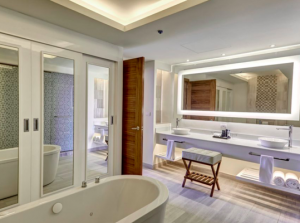 three toilets, three showers that I think we could lay down in, two bath tubs, two desks and with a kitchenette.  And four bottles of liquor to boot! We ended up spending so much time in our room exploring that the pool closed by the time we got outside. We did eventually though and to the beach we went.
Day 2: Avoid the sunburn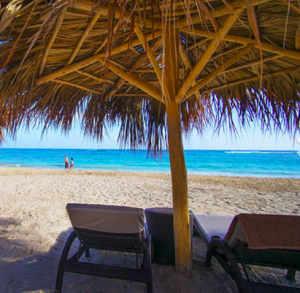 This is nearly impossible here.

We slathered and slathered and mocked the red lobstered people back out on lawn chairs in the sun for more burn. But it took only a few hours and the familiar pain of burn started on my shoulders. I've definitely crisped more before, but I was not expecting to be this red this fast. The tube of sunscreen which I assumed would fly home with us is nearly gone, I may have to pick some up for the other Punta Cana adventure.
Day 3: Avoid the sun from 12:30-3:00pm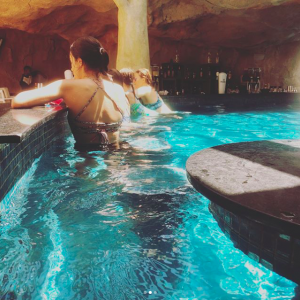 We remembered that this is the worst time to be out and took advantage of having a bed per person to have a nice nap. Then back out the the pools, this time the pool with the pool bar. Micah can reach the bottom of this one. Easier for her to talk to the bartender. Of course this was harder to gauge our drink consumption. We had determined that we could drink one piña colada (or cherry slushy for the kids) per lap of the lazy river. And with a whole lot less effort.
Day 4: Enjoy Yoga on the beach
Herbalife organized a Yoga session on the beach in the morning, probably the thing I had been most looking forward to. But what was supposed to be Tree looking at the green waves, was a boot-camp-sculpting yoga in which I felt like passing out at the end. And instead of adoring the waves, I needed to rush into the waves to rinse the sand, sweat and sunscreen from my eyes. No problem. After our recovery shake we refuelled our carbs with some waffles and crepes. We had better be careful with the restaurants outside this resort. We've gotten so used to walking right up to the buffet line and walking right out when we're done. The girls' jaws dropped when I told them their four gelato's a day fix will be cut in just a few short days. All feeling of exploring how the locals lived has dissipated with so many things available and given to us before we even ask. Reality will bite as we have to start carrying cash and cards with us wherever we go. 
Day 5: Attempt to shove all our clothes back into our bags for the move to the new hotel
This is part tonight and part tomorrow, so it may become the featured event tonight. We did get 3 extra bags from Herbalife which will be….helpful? I'm sure the huge beach towels and yoga mats Herbalife gave us will fit into them. This puts a major challenge on our travel light goal…