Scottish dance anyone?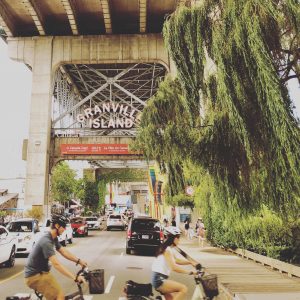 We arrived in Vancouver a mere 45 minutes after leaving Squamish. As food was on our mind, Granville Island was on our itinerary. We chanced to park on the Island itself and had success! In the early 1900s, Granville Island used to have factories, plants and sawmills, but now Granville Island is described as a "food lover's paradise".
The Market is the most busy part of this area but there is plenty of theatres, artisan workshops and craft studios. Again our souvenir shopping was postponed due to major inflation-we just can't afford a $70 t-shirt right now, sorry friends.
There are the normal must-do's in Vancouver so we did do many of them. Luckily we got a local insider tip about how to experience one of the must-do's but by not having the must $25-$50 per person fee. Capilano Bridge is in the top things listed to see, however not too far away is the Lynn Canyon Park, which boasts a suspension bridge also. It is a bit shorter, a bit narrower, a bit higher and a bit more affordable-like free affordable. After a successful "tree" in the middle of the bridge, we walked through the forest to see the Redwoods and stumbled upon a movie being made. So if you see me and Micah staring stupidly at an oddly dressed girl with a purple/pink wig down to her knees and a staff, you may claim that you know me.
Stanley Park is another great place to hang for a day. While Montreal is getting hit with insanely high temps, it is sweater weather here and swimming was out. We did however get to participate in Scottish dance lessons.
Just passing through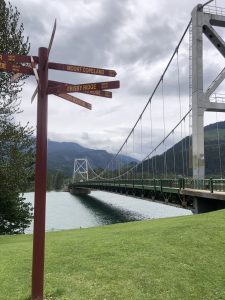 We had experienced Kelowna on our way to the Pacific coast, which seems like a world away right now, so we opted for passing through Kamloops, a city a bit north of Kelowna.
As we paced ourselves in the buffet restaurant, we asked the waitress what there was to do for fun, to which she replied that if you're not into hiking, climbing, skiing or whitewater rafting…nothing. There's no culture here. She sadly sighed, "People just pass through Kamloops." Which is what we ended up doing.
All those stops you don't ever stop for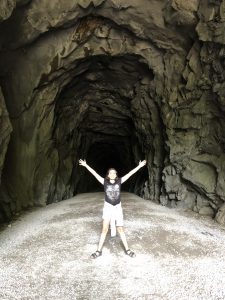 The drive however all the way to Banff was filled with a lot of day hikes and neat things to go see. Multiple 2-5 km hikes ending with a waterfall made the trip a whole lot longer but nicely cut up into bits for plenty of stretching. The Othello Tunnels were nothing really amazing but was a beautiful hike running along the river nonetheless. It was where Rambo First Blood was shot so totally worth it. We had missed Emerald Lake on the way west, so now we stopped there. As Nellie pointed out, it wasn't really emerald, it was teal, but still a picturesque scene for the many weddings that take place there. We finally arrived back in Banff and got out to stretch our legs and see about those souvenirs. A bit more practically priced though the girls kept going for things like slime. After 10 minutes of bumping into 30 other bodies surrounded by things, things and more things, the urge to run out screaming with your arms straight out is strong. We resisted and left on our own accord and didn't have to be escorted. You moms with kids will understand.
North American patriots / O Canada, O Say Can You See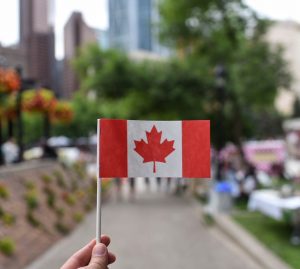 Although Vancouver has the rep for rain, we encountered more rain here in Calgary than Vancouver. I had wrongly assumed that the Calgary Stampede would be officially starting the first week of July. Which is true, but not until the 7th. So bummed out, we will be missing that bucket list item. We are headed to another big place for rodeo's and and horses so we'll at least get our fill of country soon. We did however get to participate in Calgary's Canada Day celebration. Lots of food trucks and dancing and discovering of new country singers. We did not have the high temperature celebration that Montreal did and by the time the fireworks were over at 11:30, none of us could feel our toes which were clad in sandals. It's birthday week for us!
We were very proud to celebrate in Canada's 151st birthday as Canadian's and are looking forward to celebrating the States' 242nd birthday as American's. Canada showed some incredible pride and patriotism and we expect no less from the states. Canada's anthem has been a part of every week for us but the American anthem has not. So I googled the lyrics to the anthem so that I could make sure my girls knew their second anthem. All you American's, did you know that there are THREE extra verses to the anthem? Check it out here.   Our family are North American patriots!