Thank goodness for drinking tons of Herbal Concentrate Tea so we could be excited and awake to see Cortnie.
Last Friday found us exhausted from flying from the Dominican from 2 pm to 2 am and finally arriving at our hotel at 4:30 am. Gratefully, we slept until 11 am. We then drove the hour or so to Lake Louise to collect Cortnie, fresh from her West Coast Tour. We were right to put our tuques on: summiting to the top of Lake Moraine we found ourselves in a heavy hail storm that accumulated to snow very quickly. We had intended on hiking both lakes, but with the snow, we thought we'd give Louise a few weeks to warm up. On our way back into Calgary we'll stop and hike her. Our tea kept us driving, listening intently to Cortnie, mostly not asking the same question over and over from lack of brain activity and mostly smiling.
If you see a darker lump in the distance, it may just be a bear. It also may not be. It may just be a stump.
We left Alberta and crossed over into British Columbia in the morning. We managed to mostly fill the storage on our devices with the pictures from this drive and scanned for bears. Arriving in Kelowna was a great relief to be able to check into a real home through AirBnB, buy some groceries and blend our Ninja Juice.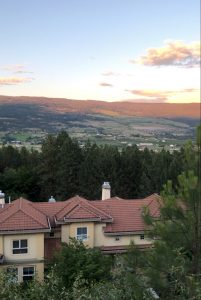 We are camped here for the next couple of days and so far in our exploring, we have at times felt as though we were in California, ready to cross the Golden Gate Bridge, then in Southern France. There were flashes of Madrid and childhood memories of hikes in Wyomings' mountains. I think we really like it here so far. As we've challenged ourselves to having a hike everywhere we roam, we have an amazing one coming up. Until then we will keep our eyes open for the Okanagan monster.
Tree pose at 4,000 feet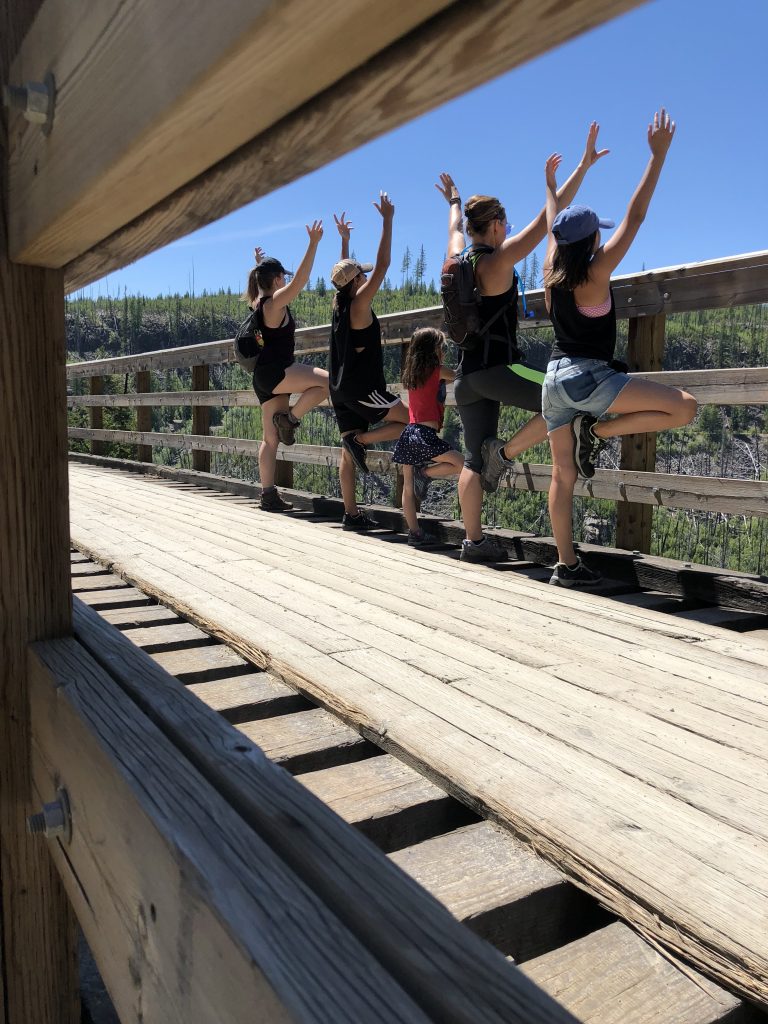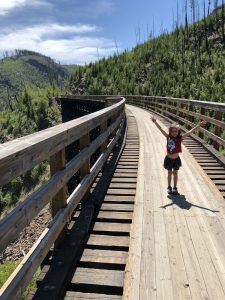 Our great hike actually turned into a great bike ride and I'm super happy it did. Arriving at the beginning of our hike we found a huge trailer full of bikes for rent. The hiking trail was wide enough for a car to drive so we decided it would be much more fun to bike it rather than walk.
As we passed the few walkers, I saw the flash of regret of not biking this trail in their eyes.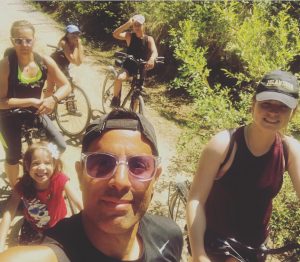 The best part was that it was a completely flat road ahead and although it was a 24 km ride, it was mostly undemanding. The first crossing of the trestle was intimidating, Hakim's vertigo set in a bit, but by the 18th, we were pros. Continuing our tree tradition, our highest so far is at 4,000 feet.
Lake Okanagan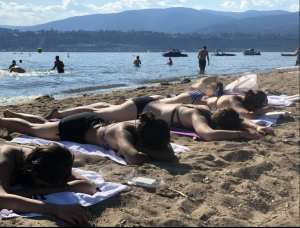 Placed in the center surrounded by mountains, Lake Okanagan is just glorious. Kelowna has maintained plenty of beachfront property for the public and we were surprised to see how many people came out for a late afternoon/early evening swim. Kelowna gives a vibe of, "come be active, choose whichever you feel like today, and if not, come chill by the lake". The rest of our time in Kelowna was spent exploring the layout of the city and exchanging our jackets for tank tops again.
Mother of the Wind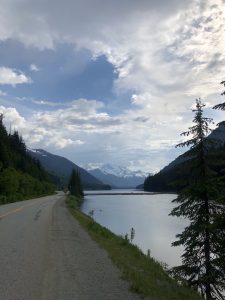 Time for our trip to Squamish. We had high hopes for Squamish. I was hoping it would be Kelowna on the ocean. We took the scenic route to get there, following smaller highways and dropping in from the back of Whistler. This was not a wasted extra hour. This drive has the most glorious views and scenes as you are entirely surrounded by mountains and the view of another. Fraser Valley and Fraser River are not to be missed.
Finally the signs for Whistler appeared and eventually Squamish, which means pretty much, Mother of the Wind. Windy city it was, the wind whipped through off the ocean into the small town. We had a day to catch up on work and studies and rest and we were off to hike Murrin Loop Trail. This was about an hour hike and was added as we postponed our bigger hike due to the wind and overcast day. I have experienced firsthand how fast the weather on a mountain can make you regret being there! But we were, as always so far, not disappointed. The lookout point was just amazing with this tree at 1,000 feet.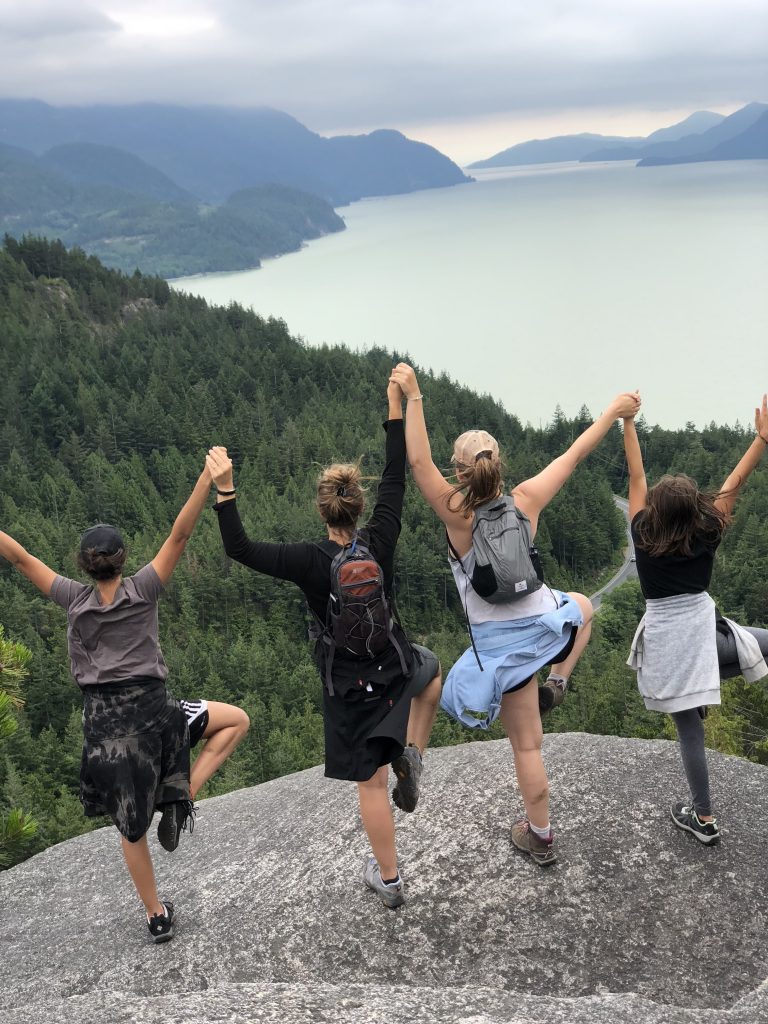 Tree pose at 2,300 feet
The following day was the big Chief hike. The mountain that brings hikers and climbers from all over. The El Capitain of Yosemite of the North. Only a handful of years has there finally been a route found and opened for just the hiker. Up until that point you couldn't summit unless you were a rock climber–and a capable one at that. Micah and Nellie were 2 of probably 10 kids we saw on the path and if I was fatigued, I am completely impressed with the perseverance of both girls. This hike averaged 3 hours round trip. We did it in 4. I was afraid of bears because I foolishly (although unintentionally) fried up guacamole quesadillas.
I envisioned the bears cornering from all sides, drawn to the smell of fried tortilla. We packed the bear bell and the bear spray. Turns out though we didn't have even a stretch of path that did not have another person on it, so in the end we used people to ward off bears from our lunch. The incline on this path was intense and made up our exercise of the day. Some of the rock steps came up to mid thigh on poor little Micah. But her chicken legs pulled her through.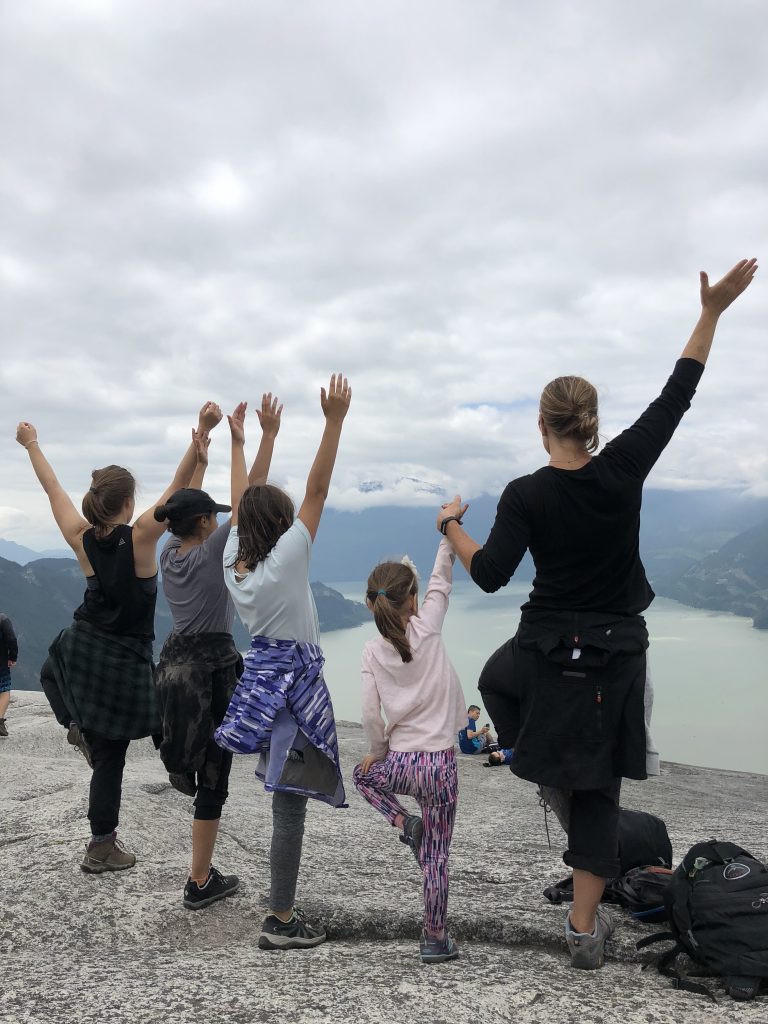 Finally through the trees, the sense that we were arriving at our destination, we got to scramble up an inclined rock face, sometimes so inclined that we either had to climb a ladder or use chains to help pull ourselves up. What an incredible hike. At 3/4 of the trip Micah had seemed to fizzle out and I worried that we were done. But I'm so glad she kept going so we got to see the sight of the summit. This tree came at 2,300 feet.
Hardwired for adventure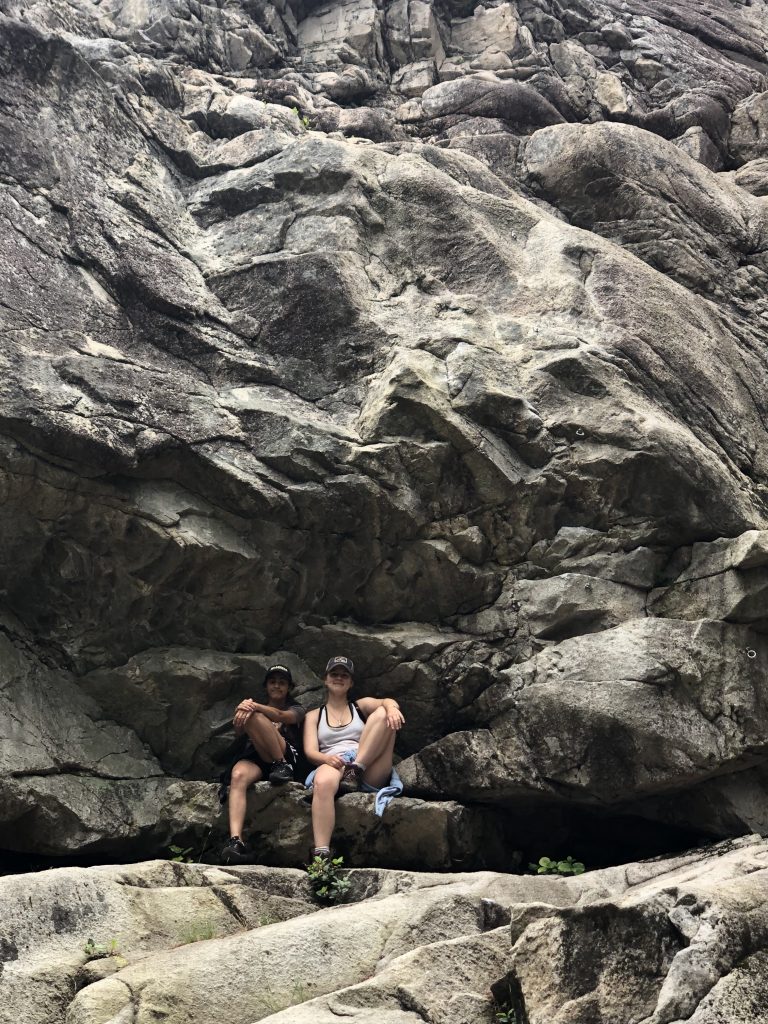 We used the next day to recover, do a bit more tree at ground level and stretch out our sore ligaments. Other than doing yet another hike though, there wasn't much else to do other than that anyway. Squamish was not Kelowna on the ocean. Squamish is what I can imagine to be the place that is most like what it was before any building. That has some accommodations of course. The beach did not have easy access and combed beaches and toilets. It was not a place to go tanning on a towel. The town, although quaint and cute, was a place to get food, some clothes, some gear and not much else. Squamish did not offer every accommodation that one would think they needed. It was not aesthetically pleasing to the eye. At first, I was a bit indignant at this, wondering how they wanted me to enjoy myself without all the things I was used to. After a day or so, I realized how simply sitting in the middle of majestic mountain required something more basic and bare and that it was ok, in fact necessary.  And if Kelowna said, "come be active one and all", Squamish said, "come and perfect the art of being active". We thoroughly enjoyed Squamish and it is definitely a city worth checking out, a mountain hike worth hiking, but probably only 2 days are needed if you are not going for extreme sports. 
Change of extremes–again
Not to worry though. We will be going from extreme sports to….extreme shopping? Our next stop: Vancouver.