We arrived in Paris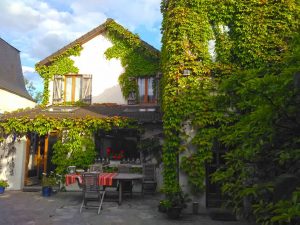 We arrived in Paris ahead of schedule so we were able to avoid most of Paris' evening traffic jam. We rented a picturesque home just outside of the arrondissement (air on deece uh mont; that big circle thing around the center of Paris maps), a bit east of Orly Airport.
Driving in Paris sounded like a warrior challenge we both wanted to take on, but we also had plans. And needed to make them. So we dropped off our rental and purchased our 5 day visitor public transport.
One thing I've come to find is that French people are not great at using signage or logic in movement.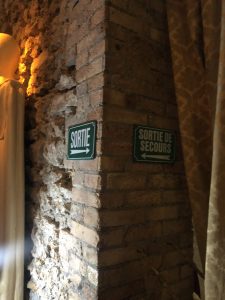 I almost wonder if there are cameras specifically trained on people staring at a sign, watching them start in one direction, desperately trying to find the next clue as to which direction to take, only to find a new size, shape, color or location of said sign. The people behind these cameras are lounging, shirts untucked with burning cigarettes in hand, laughing hysterically, or rolling eyes, (both are probable), at the people below doing loops around the station/grocery/metro/block. I'm pretty sure that's what's going on.
No insult meant, where the French are failing at organized anything, they rule at croissant making.
Our first day out in the Paris streets was an area called Ile de la Cité. No sign yet of the Eiffel tower, for two reasons. One, see rant above about French and their signs and two, Paris is much bigger than I realized. I did imagine the tower being visible from every curve in the arrondissement. Naïve me. It is not and actually when we did see it days later, it appeared quite suddenly.
Ile de la Cité is very historic but also personally historic as it is where Hakim's mother, Mamilou, was born, baptized and grew up. We visited the outside of their one room apartment that had been filled with 6 kids. One block over was the synagogue, nestled in between two towering apartments, that Mamilou remembers being empty and playing in. Being born in '39, she was just an infant at the beginning of the war, but she has stories from her older sister's of the day the Nazi's rounded up Jewish families, in which is now called the Vel d'Hiv.
I couldn't decide on a link I liked best, so here's one and here's another on the full story. Later on, at metro station Bir-Hakeim (the most beautiful station of course, wink wink), a huge commemorative plaque hung for the nearly 13,000 Parisian Jews and almost 4,000 Parisian children who were rounded up. These people were directly shipped by train to the Auschwitz-Birkenau extermination camp. Now if you were like me and didn't know, there were 42,000 concentration camps and 6 extermination camps, Auschwitz-Birkenau being one of them. At some point that day, we passed through a "Carre" (square) and saw a commemorative sign listing the names of the kids from that particular neighbourhood who had been taken. I still stand for my initial assessment of the French and their signs, but they do like to mark certain important pieces of history and I do appreciate that.
We rounded the corner to the local cathedral that Mamilou and her family attended. Hakim got involved in a conversation with the priest who told us that the priest who was head of that church while Mamilou attended, and in fact who would have baptized her, also forged baptism certificates for Jewish children to try to save them. How and why that worked, I have to go find out. But worked it did, and there is a beautiful stone plaque on the cathedral telling the public about it. While we walked, Hakim shared with the girls the various stories that had been given from his mother and aunts, including remembering certain meetings in their apartment, where men would plan certain ways to resist. They remembered hearing the fateful call of Gaulle Bordeaux, who from England broadcast calls out to all Parisians to stand and be part of the resistance, and how grandpa tried three times to leave the city to join the resistance outside of Paris, each time to be blocked. We also heard stories of grandma's discreet votes for the communist party later with reasoning that it was the the communists who helped feed her kids during the war. Imagine those fights! It's quite hard not to dedicate this entire post to the war as the entire city was affected by it. There are no visible marks, but every area has a story. Even Eiffel. But more on that later. 
The French are no good with signs anyway, I have seen evidence that they have some success with color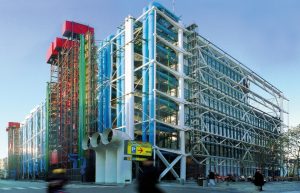 In the afternoon we made it to be standing outside the Pompidou. I didn't know what this was, but I did imagine it to be a 1,000 year old something with a name like that, but it is a modern art museum, built to look like the building is inside out. Complete with a color code. Remember, the French are no good with signs anyway, I have seen evidence that they have some success with color. Remembering our lack of interest at the modern art museum in Madrid, we oggled and walked on.
The famed Notre Dame
Turning the corner, we came upon the famed Notre Dame. We searched through the crowd of selfie takers for the circular floor stone that marked the exact center of Paris. Then we selfies our feet standing in the exact center of Paris. We sat back to admire the entrance while learning facts about Notre Dame. The most fascinating story was that during the Revolution and after the beheading of the Royalty, an angry mob supposedly pulled the 28 statues of kings down from the church and beheaded those also. Later that night, a man came and gathered the heads and buried them for safekeeping. They were forgotten about. For 200 years. So the heads that we see on the church today are actually replicas of the original heads. Here's the kicker. While the French mob thought they were beheading statues of past French kings, they were in fact beheading statues of past Biblical kings. Awesome. Now while Notre Dame is stunning, with "simple" design until roof line (if one can call any of the cathedrals simple), it was not as imposing as I had imagined, defiantly not like in The Hunchback of Notre Dame. Across the river was the Hôpital Hôtel-Dieux, (literal translation: God's Hospital Hotel), a hospital named that for being next to the great cathedral, and the birthplace of my mother in law.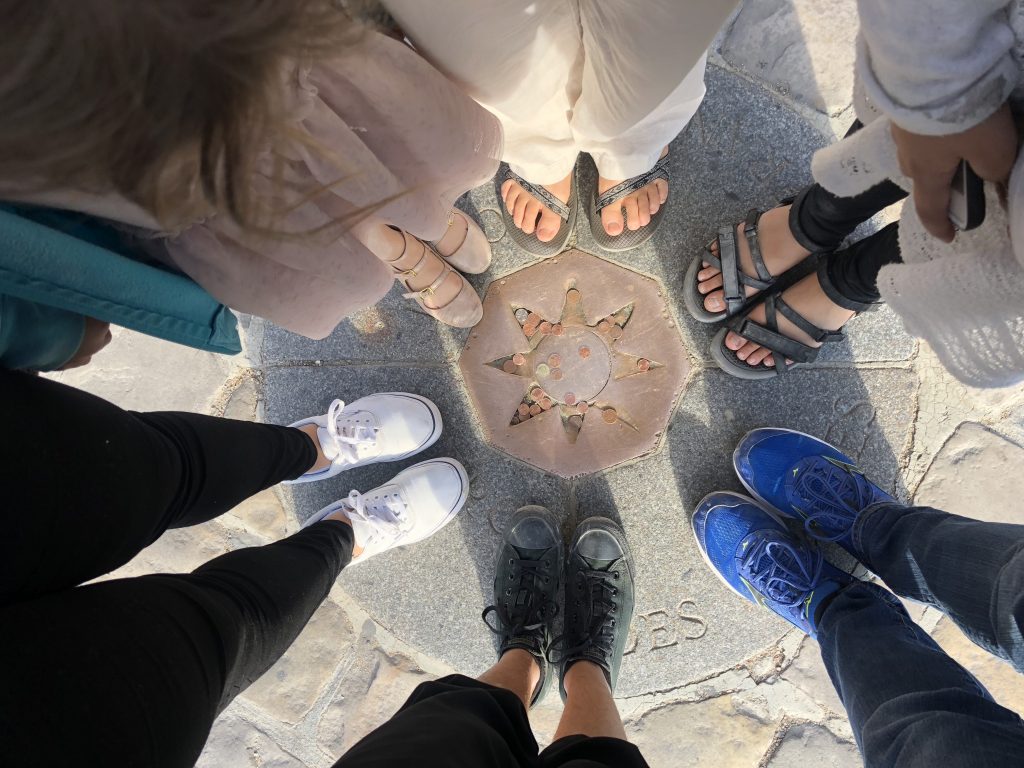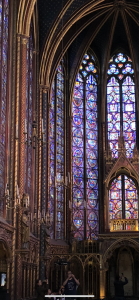 Our last stop of the day was to visit one of Paris's best kept secret landmark: Sainte Chapelle, a cathedral not far from Notre Dame and built by Louis XIV to house the Crown of Thorns of Jesus. It is absolutely stunning inside with the immense stained glass windows, somehow filling the place with dark light, if that makes any sense at all. It is dark, yet light. And that's all I can think of to describe it. Well worth the extra walk.
I believe we ended this day with a clocked 19,000 some steps and we didn't even get our nap in. But we definitely needed to end the day early, too bad everything needed to also. But I get it, it's quite a lot, Paris.