What a whirlwind the last two weeks were, which is appropriate as Wyoming is known as "Windy Wyoming". It had been nearly 4 years or so since we last saw my side of the family and it was an emotional time to see them and get to know them again.
We had three national celebrations within two weeks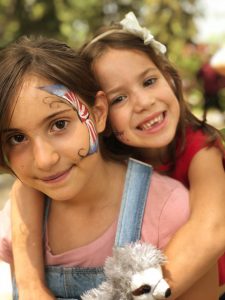 Our 4th of July celebration did not disappoint a week later we celebrated France's World Cup victory (Canadian American's watching France vs Croatia in a Mexican restaurant in Wyoming, LOL). We had three national celebrations within two weeks as the previous day was France's Independence Day, so you can imagine there were some happy frogs among us.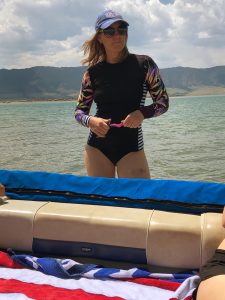 Laramie is situated at an elevation of 7,165 feet but is actually in a valley in the mountains. Immediately my skin started shrinking and chapstick and water were always at our sides. Cardio was no problem here, just a simple walk up a small hill from where we were staying left me hoping my 4 minute walk had miraculously made a 20 minute cardio session. What we don't have at our fingertips in Montreal, we got to do in Wild Windy Wyoming. Perfectly located and 30 minutes away in different directions, one can downhill ski, boat, boulder and/or rope climb or sit in some hot springs.
My one place we had to visit was Vedauwoo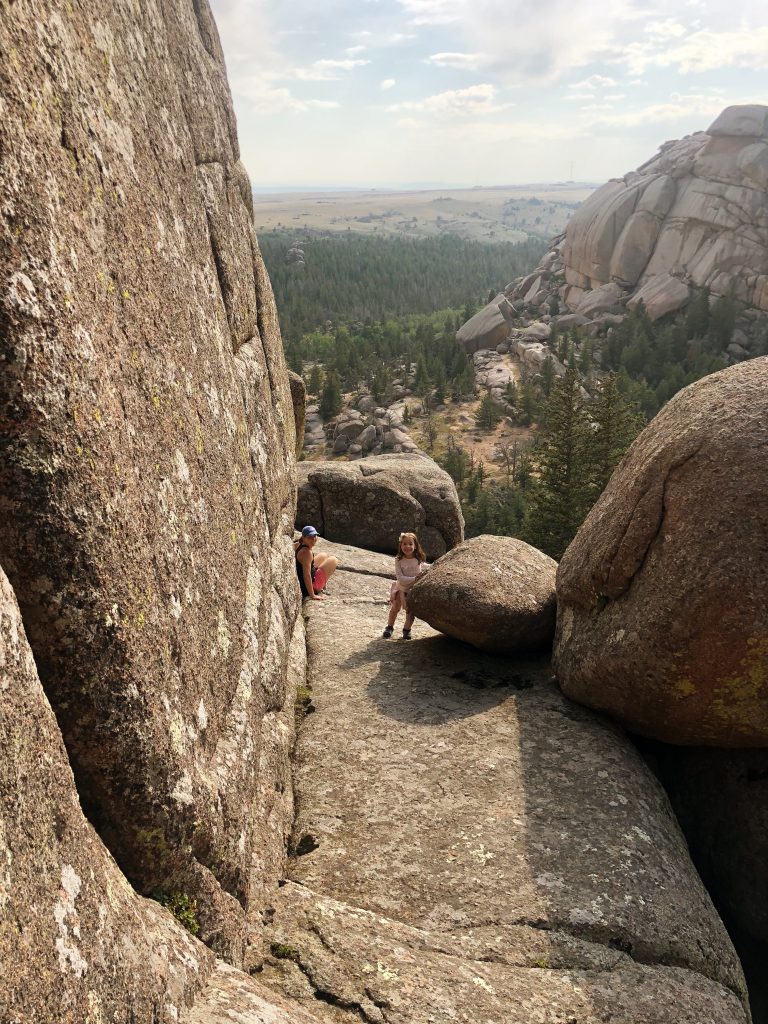 Vedauwoo, pronounced Ve-da-vu, where we challenged ourselves and bouldered up to the summit of a large rock pile. We also got to take advantage of an afternoon of motorcycles and quads and a bit of horseback riding. Country music is the most appropriate music to listen to there, so we did, while searching for cowgirl boots. My dad owns the local salvage yard, so we had a nice time shopping in the abandoned cars and scored some cool hats, hoodies, $9 in coins and even a Bear Grylls survival pack.  No boots though. We had a fun time checking out award winning restored old cars, while eating home made ice cream and being challenged by physics tricks. Some people are just that talented.  Bacon is to Wyoming as Kale is to San Fransisco. No wonder I am struggling becoming a vegetarian.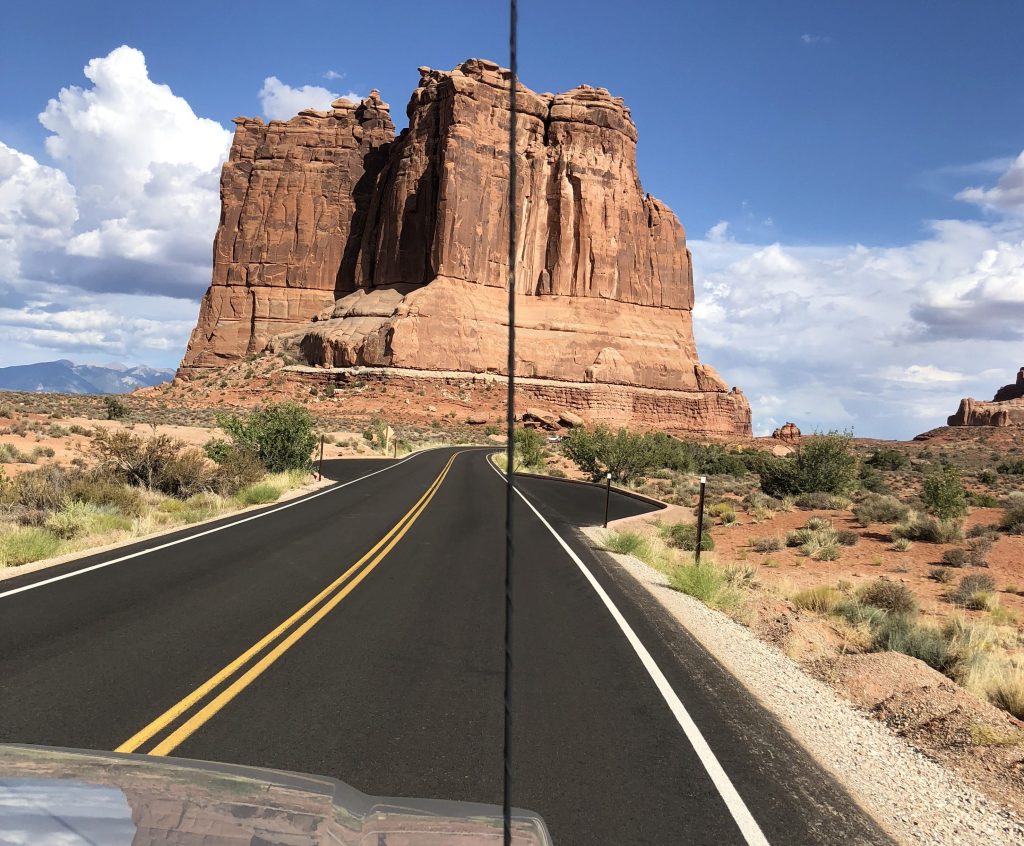 We traveled 5 hours southwest to Grand Junction, CO and from there, an hour more southwest to Moab, UT. Moab, with a population of 5,000, is a desert and is most famous for it's sandstone arches. We took the four hour driving/hiking tour through the Arch Parkway in 40 degree weather (105 degree Fahrenheit for all you Americans). Normally, the 5 km round trip hike we did would be no problem but left us realizing that that would be our longest hike to see these amazing structures if we were to survive. We weren't able to obey the sign that said that each person should have 4 litres of water. We did get to the top of Grand Mesa, a total elevation of 10,839 feet, where we had our highest "tree" yet.
Our last adventure in Wyoming was reuniting with high school friends from 20 years ago. Its a funny thing to recognize a face but not recognize it at all. Then within five minutes your eyes adjust and this person standing in front of you is exactly (mostly) how you knew them from before. It's also weird to know that I am considered "middle aged" now and so are all these people. Some of them fit that description while others, myself I like to believe, do not. It is also something to not see someone as you knew them 20 years ago, but for who they are now. Alcohol and a 10 minute conversation doesn't help to change that view at all.
All in all this mobile adventure we had was a great time with lessons learned and a narrowing down of things important to us.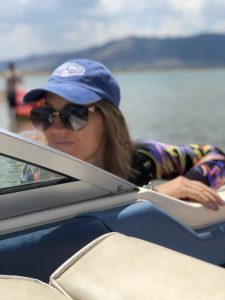 For example, I am considering how I can pack my blender with me. How can I survive two months away without my amazing blender? Other blenders just do not blend carrots and celery like mine does. I also need to see about a travel size rebounder (a fancy name for a mini trampoline). My body physically missed my morning jumps. We learned how to pack our bags well and we also learned how many toiletries we use as a family and will need to cut that out majorly or buy on location. A crazy lesson learned is that we can survive on a few shirts, shorts and pants. We may end up packing a few more pairs of underwear, but in the end, we all had clothes we didn't even wear. We learned to let go of our grip on all our things, as we had people living in our house and using them while we were gone.
We also learned that people are really good at trying to look good, especially on things like Facebook, but in the end we all have major struggles and battles raging on. My battles I deal with are overshadowed by others' battles. It makes one look twice at a person, knowing that we all want to same things, in general, but that we all are struggling individuals.
"Life's too short to rush." Cortnie Kassam, age 19.

"I learned that we are more blessed than we realized we were." Norah Kassam, age 13.

"I learned that nothing is ever perfect." Nellie Kassam, age 10.

"I learned to ride on the back of a motorcycle." Micah Kassam, age 5

"Staying in one place for so long creates habits in us and over time a mental algorithm develops how we think and we end up doing the same things over and over. Traveling with our new mindset of taking our lives on the road and not a vacation softened these habits, in a good and bad way. I think of it like our minds are like a hill with snow and our thoughts and actions are a sled going down. Over time grooves form, getting deeper and deeper and we can't get out. We got out of our groove with all the experiences we had and we got a break from the habits. I felt like I went so long without the courage to go do something different so now those grooves are flattened and now we can take that sled anywhere." Hakim Kassam
We now have 6 weeks to refine our packing skills, purge our home even more while still enjoying the beautiful summer that Montreal offers, getting in some more adventures.