Getting to Rome was easier than we thought it would be and we were anxious to get out and explore. We made camp a bit north of the city center, but still about 10-15 minutes from all the main events. What was most striking is that driving through the city, ruins were everywhere.
And then, all of a sudden, the towering Coliseum was there, just on the busy main road.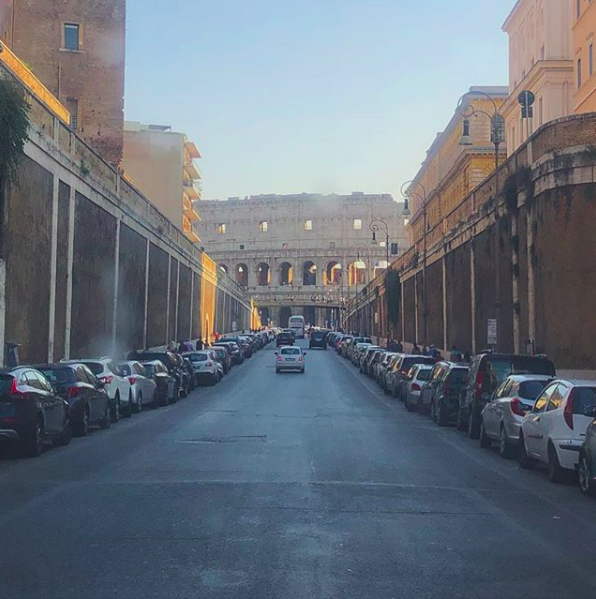 I think I expected it to be off on a dusty hill, safely away from speeding vehicles and noise. But it is just in the backdrop of Rome. It is fascinating to walk along a street with new buildings and then come across a ruin site with ongoing archaeology digs. One of these ongoing sites is the Forum and Palatine Hill. Diggers had been just uncovering more columns.
Going inside the Coliseum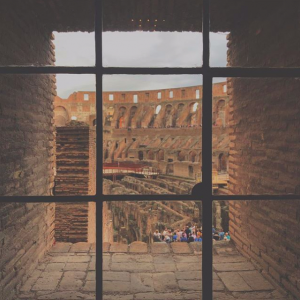 I tried to get a sense of what it would be like way back in the day that it was used. Most of the seating had deteriorated, but there was a section that had not and you could see how it was laid out. Details like floor tiling were still visible as was brick patterning for decoration. It was really a wonder to see that they cared to be so detailed. Getting to see the remains of the "theatre" made this "ancient" civilization less….basic. Not only did they do the whole feed the Christians to the lions and all the gladiator fighting, but they actually had scene changes, including mock sea battles and animal hunts. We saw the "elevators" in which tropical plants or animals would be lifted and suddenly appear "on set".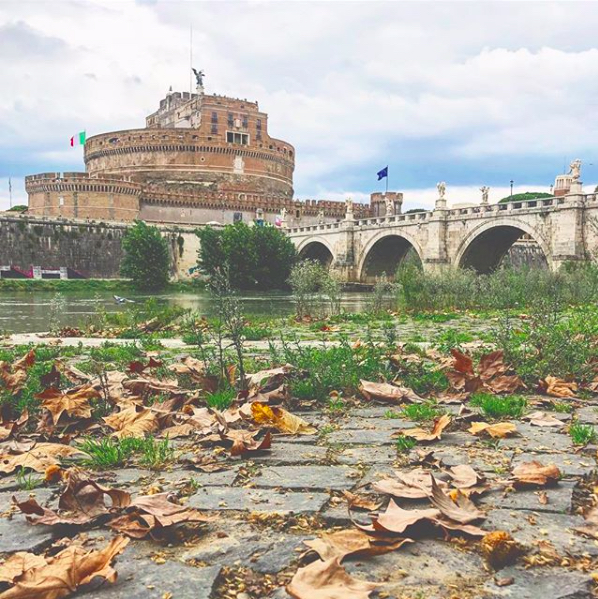 We absolutely loved walking along the streets, trying to find the hidden gems inside. Finally, we came upon the Pantheon. This was beautiful and we stopped to get a gelato. Gelato stores are as frequent as the boulangeries in France, and so were our visits to them. Not to mention they were 2 euro each for a huge scoop. But we only stopped briefly. Because what we soon found out in Rome, and in Italy in general, was that Rome pushes you along so fast that you don't want to stop, even if you could, for fear of getting plowed over. I also think now, that the saying, "When in Rome, do as the Romans", was coined mostly because….you have no choice. You just have to or you get plowed over. The other thing we now could eat, as Cortnie had banned us from it until we arrived in Italy, was pizza and pasta! Pizza shops were a dime a dozen and for 15 euro we came back with 4 steaming pies. But apparently, the pie to have was from Naples, the birthplace of pizza and a 5-year study to make the crust. Soon we'll investigate.
A whole day was and should be, devoted to Vatican City.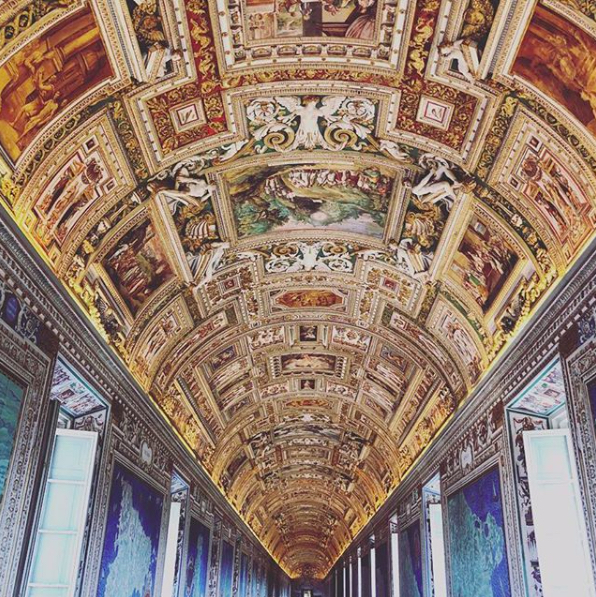 We started at the 2,000-year-old pine cone. Knowing, like all museums, how hard and long a day can be, trying to stuff everything in and may be missing something because everyone is so tired, we downloaded a tour guide. He guided us through all the main rooms and pieces of art, which without, our experience would not have been as valuable. The whole building is divided up into different museums which are mind-blowing. The Gallery of Maps was a hall one could spend hours in, it was so fascinating. My personal favourite was the massive hall full of tapestries, beautiful, huge tapestries, some of which were first painted by Rafael first then sent off to master tapestry makers. The Sistine Chapel was not what I expected, but impressive anyway. I think I can honestly say now that I don't really like the painting of Michelangelo. I prefer Raphael's colours better. Fun fact: Michelangelo hated to paint. He thought it was beneath him and preferred sculpting. And that's as far as that goes. But, it was still a must-see.
By the time we made it to Saint Peter's Basilica, we had been a little art-ed out and were not as anxious to explore everything to be seen. So over the heads of people, we stretched our necks to try to see the centrepiece, which apparently Peter is buried under. In fact, the Basilica was built around the point that he was buried. Many other famous works of arts are here along with Michelangelo's Pietà. All in all, it was an exhausting day of art again but we would have missed out on so much had we passed it up!