Yes you read that correct, providing that you put the emphasis on Life Resolutions.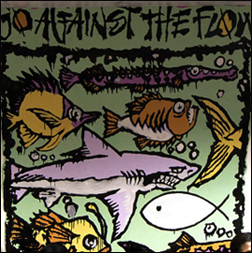 New is just the adjective. It is a bit early for new goals though right? Costco doesn't even have Christmas trees out yet (give them time people) Well it all starts with the T-shirt I had when I was in junior high. The shirt had a slew of a variety of fish swimming in one direction and then this tiny, plain fish swimming the opposite direction. The words "Go Against the Flow" were written below.
I wonder if somehow subconsciously I took that on for my life's moto. Lord knows how much I drive Hakim crazy with my constant "why's". I have learned to appreciate questioning why we do the things we do and considering if that reason is good enough for me. Case in point is the fun fact that we learned last week: the diamond ring, which is the iconic symbol of marriage and proposal and commitment and of course love, is actually an advertisement scheme to help diamond sales.
(yes, I was surprised, realizing now that I shouldn't have been) So this seemingly all important tradition is not tradition at all but money and sales driven by an ad telling us that we should buy a diamond worth 1-2 months salary to commence our marriages. Not only did this news destroy my paradigm of this tradition, we were hit with the 
knowledge
 that our 
expensive
 diamonds are quite worthlesss-in 
actual
 monetary value. (See video above) Clearly 13 years ago we weren't questioning every and all cultural modus vivendi, but had I known this before, I really wonder if diamond is the way we would have gone! I personally like the Asian tradition of Jade, but then again, the diamond is my birth stone….
Back to the new Life Resolutions.
Simply put, I am so totally re-inspired in September to reinvent my goals, my routines, to get organized and to make a fresh start. You know, all that promotion around the actual New Years holiday and all the pressures that come with it. It took years for me to realize this and to accept that it's OKAY that I reorganize my life and goals in the fall instead of the dreary mid of winter. Just because that was somehow the tradition in this hemisphere didn't mean that it had to be mine. In fact, all around the world the new year is celebrated in different seasons and months and in some cultures even changes year to year. It took nearly 10 years of New Years Day arguments with Hakim about sitting down to work out this years goals and vision and plan. That very sentence from him sent me into complete brain mush and anxiety. To me the first few days of January are to be spent in jammies, binge watching certain epic movies and their sequels while eating cinnamon rolls.
This is all to say that finally, this week I am planning out our new home education year. Not only do I plan our educational year, I also visit personal goals and visions and mark out all of our events and trips. Having to prioritize things in the few weeks we have here before we leave, this particular topic had to come later. It has been like having a postal package all wrapped up sitting by my desk and for weeks I couldn't open it, but now I can! Each year has been different from the last and I used to fight that and wonder why. But as Jim Rohn says, "Don't sign up for that class". So I don't worry anymore about why things are different but instead now look at how we are going to find resources that match where we are currently. Ideas have been pouring in from all kinds of sources and now these ideas are going to be researched and decided upon. There are SO MANY THINGS that I want to add into our plan! Things like:
cooking

cleaning

budgeting

organization

car maintenance

basic home maintenance

Music studies

Composer studies

Poetry

Mapwork

Read Alouds

Current events

Art

Nature Study

Economics

Politics/government

Field trips

Shakespeare
That's all on top of the reading, writing, math, grammar, spelling, science, socials, history and our biggest focus-pursuing more seriously each of the girls' interest. In my early years, each topic would have literally been a single topic. With each year of learning and talking with other home educators, most of all these topics can and will be combined to create a complete melangé of learning. I will get the next two months to really get good at integrating all these things in as what we will be bringing will be severely limited.
But what better place than France and Italy to home educate sans textbooks!?